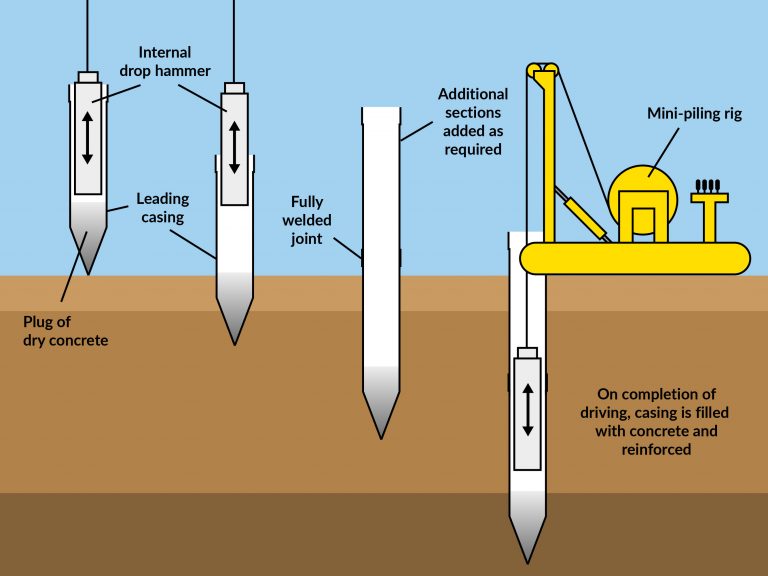 Mini Piling In Greater Manchester
We offer mini piling in Greater Manchester and the surrounding areas and provide a cost-effective solution to foundation problems.
What Is Mini-Piling?
Mini piling is a version of piling. It is usually required as a solution to poor ground conditions. When mini-piles are driven into the ground, a strong foundation is created for a new extension or building structure.
You can read more about mini-piling in our mini piling projects at industrial sites and domestic properties across Greater Manchester here.
Why Choose Mini Piling?
Mini piles can be installed in the majority of ground conditions and will cause minimal disruption to your building project. Therefore, mini piling provides a highly effective solution to weak foundations.
At Basetec Piling, we offer a traditional mini piling service that includes the following steps:
Preparing the ground
Installation the piling
Securing the structure
Cutting the mini piles
Building inspection
Concreting
To find out more about the piling process, read our step by step guide.
Where Do You Offer Mini Piling In Greater Manchester?
Our piling contractors work all across Greater Manchester including:
Bolton
Salford
Manchester
Rochdale
Stockport
Bury
Wigan
Oldham
For more information on our mini piling and foundation services across Greater Manchester, contact our piling contractors today. 
WANT A FREE QUOTE?
GET IN TOUCH NOW !
Project Categories
Piling/Mini-Piling Projects