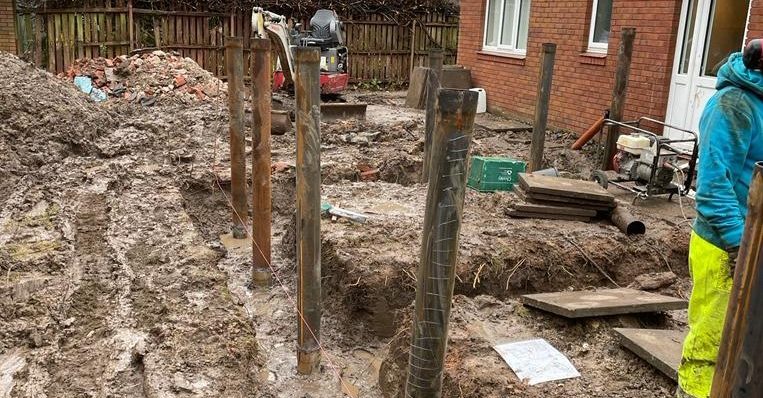 Frequently Asked Questions
Who Are Basetec Piling?
We are expert piling and foundations contractors specialising in piling, mini piling, excavation and groundwork and concrete slab foundations across the North West of England.
What areas of the country do Basetec Piling cover?
Basetec Piling are based in the North West of England and cover all areas within Greater Manchester, Merseyside, Cheshire, Lancashire, and Cumbria.
What is piling?
Piling is a construction technique in which deep foundations are set for a variety of building projects, including extensions, bridges and swimming pools. Have a look at some of our past projects to understand more on what we do.
When is piling used?
There are a number of reasons it may be:
A site investigation has highlighted that the ground is unsuitable and un-useable to a depth of more than 2 metres.
Removal costs for the excavation of traditional deep trench foundations are too expensive.
Foundation trenches are not stable and health and safety, therefore, becomes an issue.
There is a high-water table.
Where there are soils such as clay that are likely to swell or shrink excessively depending on the amount of water content.
Does Basetec Piling only carry out piling?
No, piling is just one of a range of expert services that we offer. We are a foundation and piling experts, specialising in Piling, Mini Piling, Reinforced Concrete Foundations, Excavation and Groundwork, and Structural Steelwork Read more about our services on the relevant pages.
Will you carry out a site visit before the project?
Always. It gives us chance to talk to you about your individual needs and assess any project requirements.
How much will it cost for a brief visit and your initial assessment?
Basetec Piling offers a FREE site survey and piling quote. Contact us for more details.
Does someone need to be on site during the project?
No, if the site is set out there is no reason for you to be on site during the project. We will arrange an initial visit to check any potential problems.
How long will the work take?
For a typical house extension, the work can take around 2-3 days, depending on the depth driven and services requested. For more complex projects, contact us for a more specific time frame.
How long will it be before you can start the project?
Usually, we can start the project after 2 to 4 weeks of receiving the project details.
What is the cost of a Basetec Piling project?
This is all dependent on the size of the job and depending on the equipment we will need. For a quote, please contact us for a site visit.
Do you involve a building inspector?
Yes. We work with the appointed building inspector as we need him to sign off our works on completion.
WANT A FREE QUOTE?
GET IN TOUCH NOW !
Project Categories