Piling In Preston
Our experienced foundation contractors offer piling in Preston to provide a cost-effective solution to poor foundations.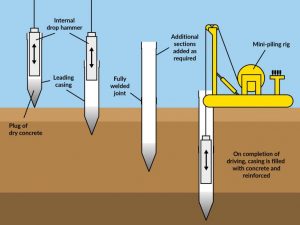 What Is Piling?
Piling is usually required for extensions or new builds where the proposed foundation is week. To resolve this, piling contractors will drill steel case piles into the ground. Consequently, this provides a stable foundation for your new build or extension.
Our foundation contractors will determine the type of piling and amount of steel piles you will need after providing structural engineer designs.
Piling is a simple, yet effective foundation service that guarantees to provide support for a new structure. You can read more about foundation piling here.
Why Choose Our Contractors For Piling In Preston?
Our piling contractors in Preston are fully qualified and have extensive knowledge and experience in the foundation industry. Therefore, they can offer best in practice piling in Preston and the surrounding areas to provide a strong foundation for a new building structure.
Usually, our local foundation contractors will complete piling works within a few working days to cause minimal disruption to your property. Furthermore, we will provide structural engineers designs and ensure our foundations pass building regulations.
To see the great work we have completed for our clients, take a look at our projects from Preston and Lancashire.

Types Of Piling We Offer:
To find out more about piling in Preston, or any other foundation works, contact us today.
WANT A FREE QUOTE?
GET IN TOUCH NOW !
Project Categories
Piling/Mini-Piling Projects