Piling In Cheshire
Our foundation contractors offering piling in Cheshire to improve poor ground conditions.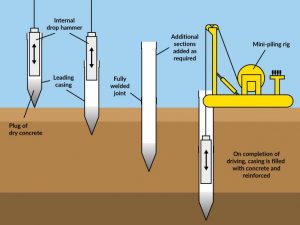 What Is Piling?
Piling strengthens an area of ground so that it is strong enough to build on and hold a new structure. As a result, piling foundation works are one of the most cost-effective, efficient solutions to poor ground conditions.
The piling process involves drilling steel cased piles into the ground to provide a stronger foundation. Consequently, this prepares the ground to support the weight of a new extension.
When we complete structural engineers calculations, we will be able to determine the number of piles needed.
You can find out more about our piling service by reading our piling step by step process. 
Why Choose Basetec For Piling In Cheshire?
Our piling contractors are fully trained and have years of experience in the civil engineering industry. Therefore, they can offer professional and efficient piling in Cheshire that will cause minimal disruption to your project.
As a North West based piling company, we pride ourselves on our complete piling service, including structural engineers designs. Consequently, we frequently receive positive feedback from our customers.
Where In Cheshire Do Basetec Cover?
Chester
Crewe
Macclesfield
Warrington
Knutsford
Wimslow
Ellesmere Port
Runcorn
Widnes
View our other Cheshire piling projects and find out why Basetec Piling are the best contractors for the job.
If you would a free, no obligation site visit or quote for our piling services in Cheshire, get in touch today.
WANT A FREE QUOTE?
GET IN TOUCH NOW !
Project Categories
Piling/Mini-Piling Projects