Piling In Cumbria
Our experienced, qualified engineers offer piling in Cumbria to provide strong foundations for your extension.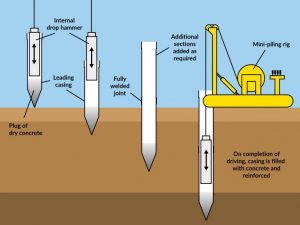 What Is Piling?
Piling is the process of drilling steel case piles into then ground to provide a strong, stable foundation for a new extension. Usually your building inspector will inform you if you need piling.
After assessing the size of the extension and providing structural engineer designs, we will evaluate how many piles your foundation will need.
Piling is a relatively straightforward process and one of the most cost-effective foundation services. You can read more about piling and the process here.
Why Choose Bastec For Piling In Cumbria?
Basetec Piling have years of experience in the foundations industry. Consequently, we offer best in practice piling in Cumbria and the surrounding areas and guarantee to pass building inspections.
Our fully trained and insured workforce will complete your piling works in a couple of working days. Therefore, causing minimal disruption to your project and allowing you to continue building your extension.
Overall, our full piling service includes, a free quote and site survey, structural engineer designs and a traditional piling method undertaken to the highest possible standard.
To see the great work we have completed for our clients, take a look at our projects from locations across Cumbria.
Where Basetec Cover In Cumbria?
We offer piling to the whole of Cumbria, including:
Penrith
Carlisle
Windermere
Keswick
Ulverston
Kendal
For more information on our piling service, or to discuss your project, contact our team today who will be happy to help.
WANT A FREE QUOTE?
GET IN TOUCH NOW !
Project Categories
Piling/Mini-Piling Projects