Piling in Preston
Our experienced, qualified engineers offer piling in Preston to provide strong foundations for your extension.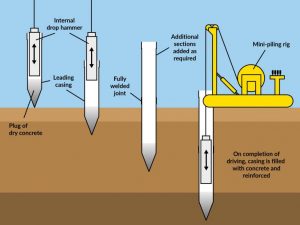 What is Piling?
You usually require piling when the ground area is not strong enough to support the weight of a new structure. Piling is relatively a straightforward process, and one of the most cost-effective foundation services.
Firstly, we assess the size of the structure and determine the number of piles needed. Following this, we drill steel case piles into the ground to prepare the ground to support a new extension. Read more about piling and the process here.
Why Choose Basetec for Piling in Preston?
Basetec Piling are a local and experienced piling company. Our piling works include a full piling service, structural engineers calculations and approval from your building inspector. We also offer a free no obligation site visit and quotation service.
Our engineers are fully trained and insured to complete your project in a few working days. Therefore causing minimal time delays for your extension project. Bastec Piling have years of experience and extensive knowledge to make sure you get the best piling solution for your project
Where Basetec Cover?
We offer foundation, excavation and piling works across Lancashire, including Preston. View our other Lancashire piling projects and discover why Basetec Piling are the best contractors for the job.
To discuss your project, or for a free site survey and no obligation quotation for our piling services in Preston, contact our team today.
WANT A FREE QUOTE?
GET IN TOUCH NOW !
Project Categories