Piling In Liverpool
Our local contractors offer piling in Liverpool and the surrounding area to provide strong building foundations.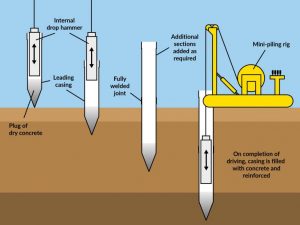 What Is Piling?
Piling is the process of constructing a base foundation for a new structure. Furthermore, this is achieved by drilling steel piles into the site and concreting to secure them.
Your building inspector will usually inform you if the ground needs piling. Following this, we will assess how many piles and the type of piles best suited to the job based on structural engineers designs.
Our foundation service includes excavation, piling works, concreting and a full building inspector's approval.
You can read more about piling here.
Why Should I Choose Basetec As A Piling Company?
Our piling contractors have worked on many piling jobs across Liverpool and have extensive knowledge and experience in the foundation industry. Consequently, they can provide an industry leading service and complete piling in Liverpool in a few working days.
Furthermore, our piling service will be fully insured and will cause minimal disruption to your project and property.
Types Of Piling In Liverpool:
Our building contractors can carry out a wide range of foundation services, including:
To find out more about our expert foundation work, contact our team today. 
WANT A FREE QUOTE?
GET IN TOUCH NOW !
Project Categories
Piling/Mini-Piling Projects