Piling In Greater Manchester
Our experienced team provide piling in Greater Manchester, including a no obligation site survey, quote, structural engineer calculations and a traditional piling service.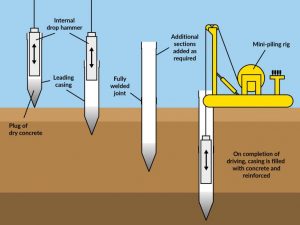 What Is Piling?
When having a new extension, the ground area you are building on needs to be strong enough to hold the new structure. If it is not strong enough, your building inspector will inform you that the ground needs piling.
Piling is the most reliable, cost effective solution to poor ground conditions and has a relatively simple process.
Essentially, piling consists of drilling steel cased piles into the ground. Essentially, this prepares the ground and provides a strong foundation to support the weight of a new building structure or extension.
The number of piles required depends on the size of extension and the structural engineers' calculations.
You can read more about the piling process here, or contact our team for more information.
Why Choose Basetec For Piling In Greater Manchester?
At Basetec Piling, we are committed to offering safe and professional piling in Greater Manchester and the surrounding areas. With years of experience in the piling and foundation industry and a fully trained, insured workforce, you can be assured you're receiving a premium service that will cause minimal disruption to your project.
Our traditional piling service includes structural engineers calculations and will receive approval from your building inspector, so you can look forward to the build of your extension.
To see why you should choose Basetec Piling, take a look at our other piling projects in Greater Manchester.
Where Do Basetec Provide Piling?
Basetec Piling offer piling services across Greater Manchester, including:
Bolton
Salford
Manchester
Rochdale
Stockport
Bury
Wigan
Oldham
To discuss your project, or for a free site survey and quotation for our piling services in Greater Manchester, get in touch with our team today.
WANT A FREE QUOTE?
GET IN TOUCH NOW !
Project Categories
Piling/Mini-Piling Projects