Piling In Merseyside
Offering piling in Merseyside and the surrounding areas, Basetec pride ourselves on our excellent customer service and professional piling service.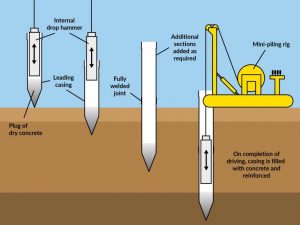 What Is Piling?
You will require piling when having an extension if the ground area is not strong enough to support a new structure. Usually, your building inspector will let you know if you require piling services.
Piling is a relatively straightforward and cost-effective service.
Firstly, we will refer to the size of the extension and provide structural engineer calculations to determine the number of piles.
Following this, we drill steel case piles into then ground to prepare the ground to support a new extension.
You can see the piling process in more detail with our step by step guide.
Why Choose Basetec For Piling In Merseyside?
Basetec Piling are a local and experienced piling company. Our piling works include a full piling service, structural engineers calculations and approval from your building inspector.
Meanwhile, our engineers are fully trained and insured, while their experience means they have an extensive knowledge of piling best practices. Because of this they can complete piling works quickly, to the best possible standard, without causing delays to your project.
To see why you should choose Basetec for piling or foundation works, see our projects from properties across Merseyside.
Areas Of Merseyside We Cover
Basetec Piling offer piling solutions across Merseyside, including:
Liverpool
Haydock
The Wirral
Southport
St Helens
Formby
Bootle
Kirby
To discuss your project, or for a free site survey and no obligation quotation for our piling services in Merseyside, contact our team today.
WANT A FREE QUOTE?
GET IN TOUCH NOW !
Project Categories
Piling/Mini-Piling Projects